Chu P. M. Q. T (2017) Very Limited Print Edition VERY RARE BANKSY EINE STIK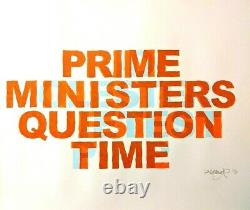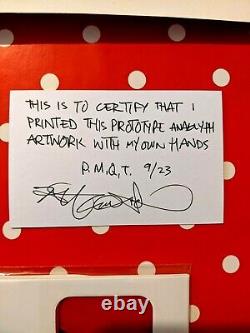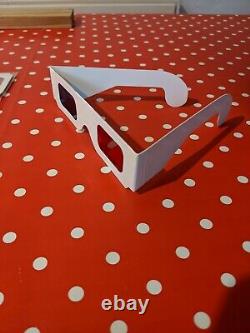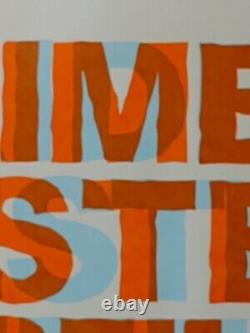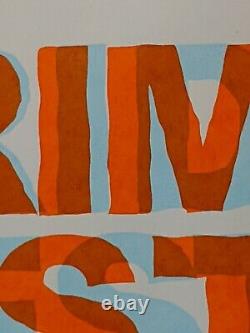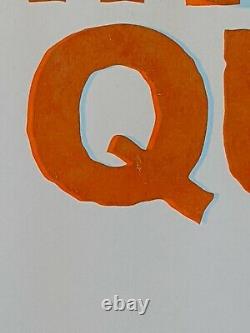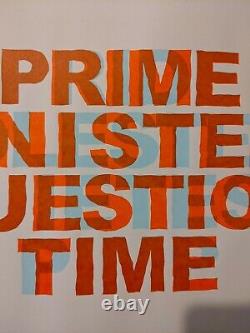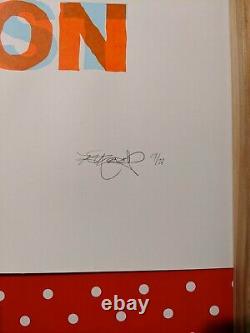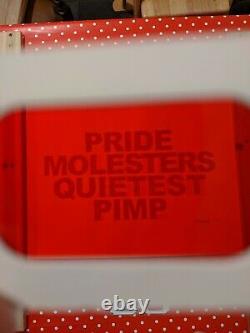 Chu - PRIME MINISTERS QUESTION TIME (2017). In Blakenall, Walsall, April 10th 1971. Number 9 of 23 printed, signed and numbered by the artist. Red & Blue ink on heavy white stock. This is the third print from Chu's experimental 3D Stereoscopic Collection.
The collection is printed by the artist at the Jacknife & Mark My Words silkscreen print house in the centre of Bristol. It was originally painted on a billboard hoisted 20ft in the air in Shangri-La at Glastonbury Festival 2016. When the lights changed colour the second, hidden phrase became visible to the audience.
This printed phrase has the other version visible through the left (red) eye. Now's the chance to own the dual print yourself, featuring Chu's font HARIAL. They arrive with a pair of cardboard glasses for your viewing pleasure.
Third in the Stereoscopic Collection, my début hand pulled screen print editions in two colour. This version of the anaglyph application renders a different typographical pun into each eye, while most of the letters are in similar positions.
It all began when I was working on the designs for the protest themed Shangri-La field at Glastonbury Festival in 2016. I had several pieces decorating the site, including a portrait of David Cameron made up of video screen stills taken of UK public protests. This phrase came to me for a hand-painted billboard design, one of many alternative posters strewn around the dystopian future village which is Shangri-La signature style. Not immediately obvious is the lack of the possessive (Minister's), making it a plural or applied in general to any head of state.
And mashed up with the popular, inclusive BBC televisual delight which is "Question Time". There aren't any photographs of it in construction as the deadline was looming and so I had only 5 hours to calculate the spacing as well as paint four separate boards that would hopefully join together. This was my last contribution in the production cycle. For the last few months I have enrolled in the print club operated by Mark My Words and Jacknife in Bristol.
Learned so much about the process, by getting my hands, clothes and mind filthier than usual. Seems as if it is something I should just do, fells so right.
Screen printing stereoscopic anaglyph prints allows a third dimension from two, or two pieces of artwork overlapping one another - which in my view is quite economical - 50% more dimension in fact. Chu explores (literally) new perspectives and embracing computer-aided technologies, Chu's work has continued to push back the boundaries of graffiti since he first began experimenting with aerosol paint & home computers in the late 1980's describing his creations as gently reminding us of the everyday conflict between digital and analogue devices. During his 30 years of experience he has successfully gained a reputation working with some of the most culturally influential artists of our time. Projects with Banksy and Jamie Hewlett, collaborating at the Swiss Embassy in London and for the groundbreaking opera'Monkey Journey to the west. Being a few of the highlights he is humbly proud to mention.
An ardent defender in the use of aerosol paint since 1988, starting out in the midlands Walsall and now living in London pursuing a studio career Chu has contributed cutting edge creations on public works, various galleries and group shows around the UK. Graffiti artist Chu has been painting in the streets since the early 1980's. He is probably best known as the world's first 3D graffiti artist.
Most recently he has been to Afghanistan running a workshop on graffiti in Kabul with an Afghan art collective called Roshd, or'growth'. Wayne'Chu' Edwards was born in Blakenall Walsall in 1971. He went to college in Walsall to study Graphic Design but dropped out before finishing the course. He then spent several years working with Walsall Borough Council running aerosol workshops.
This lead to him setting up one of the Country's flagship'legal' graffiti locations, the Paddock and becoming'Part-time Temporary Aerosol Art co-ordinator'. Chu then worked for a computer games developer on games such as Aladdin for the Gameboy.
Since 1996 he has worked freelance which has included working as a print/design and events consultant for Banksy and collaborating with Jamie Hewlett on a massive 434m mural on a Virgin Pendolino Train promoting the opera Monkey Journey to the West. CHU'S ART SHANGRI-LA TAKEOVER.
Post By: shangri-la Date: June 23, 2015 Category: News Tags: art, Contemporary Art, Glastonbury Festival, Graffiti, Politics, Shangri-La. Chu is a cunning linguist, and he has created lots of work playing on words and their combination and structure to create poignant and witty comments, such as Sodtherich replacing'Shoreditch' on a tube sign.
He's created LOTS of artwork for the festival dwellers of Shangri-La, appropriate to the Occupation of Hell and its rally. Chu is many things - an artist overall, but a politically minded, social commenting one at that. He helped Banksy become the svengali we know him as today, he singlehandedly created the world's largest aerosol mural, the Hole In The Wall, he also pioneered graffiti as a youth art within local authorities, he has taught in Afghanistan and also paints in 3D.
And he's all ours! We could go on forever about how great Chu is but let's get down to the artwork for this year. Leading up to the festival we'll be posting a teaser of his huge mosiac piece, which will be revealed at exclusively at Glastonbury. Chu has also created some animated'word ladders' which will take over our stage backdrops in the Shangri-Hell area and working on a special Shangri-la #CAMPAIN series around the site. Here's how Chu started out, I started painting in aersol in 1983, inspired by the lettering on a school friend's electro mix tape.
I became involved with a community arts project and in 1988 we secured a legal spot called The Paddock. The local authority employed me as one of only two practicing graffiti writers in the country, to take care of'street art provisions' in the borough. Through travelling, painting and exchanging photos I would form links with other artists nationwide and before long I was invited to join Ikonoklast, the UK's first'Super Crew'. Painting became a family affair with firends painting alongside one another, Desire, Goldie, Disc, Kel & Size from Walsall, Part2 from York, System from Llandudno, Juice, Cryse & Fuze from Birmingham, Rough from London, Temper from Wolverhampton, SnugOne from London, Solo One from Hinckley and Inkie from Bristol. Began using home computers in Junior school 1979, as part of select team of'whiz-kids'.
Left after getting 6 O Levels without revising, including two Maths. September 1983, picked up an aerosol can to paint with in Streetly, Walsall. College education on Graphic Design course being'guinea-pigged' in Walsall. Failed to enter the second year of study again after trying for a full-time position.
The course leader at the time: "I admire your healthy irreverence towards authority, but there is no place here for your work". 5 years voluntary work, running aerosol workshops in conjunction with Walsall Borough Council Departments Leisure and Education. Developed projects to get free paint and look after one of the Country's flagship'legal' graffiti sites, the Paddock. Employment training scheme for an extra tenner a week, teaching other'n'er-do-wells' how to use a photocopier a sa design aid.
Mother also attended the clerical section of the work camp. Gainful employment as Walsall Councils own:'Part-time Temporary Aerosol Art co-ordinator', for 15 hours a week at least. Enjoyable payroll work with Walsall's leading Computer-Game developers for over 6 years, moving from bitmap sprite animations for Aladdin on the Gameboy, through to 3D visualisations for Interface, menu, FMV's and Character/Vehicle design. Set up the GRAFFITI BASTARDS collective, now due its fourth event.
Moved to London in June 2000. Moved back home, to Birmingham, in March 2002. Became print/design & events consultant for Banksy. Set up artworking department at Mission Print specialist screenprinters, Birmingham. Painted 36m x 5m mural'Born in Walsall' single-handedly over 4 days, local brewery releases BIW beer. Created 5 minute animated short & soundtrack installation for hometown festival of light 2006. Created artwork in collaboration with Jamie Hewlett covering a massive 434m of Virgin Pendolino Train. Painted 42m x 14m mural'Hole in the Wall' single-handedly over 42 days, setting a new world record. Created largescale 200m installation'EYE Fidelity' for hometown festival of light 2007.
Designed and built experimental 11 foot cubic interior for solo show in Birmingham. Left London in 2012 for Amsterdam & Barcelona. Used aerosol paint to'distort the plane' with large anamorphic projections.
Reached over 27,00 views in one day during protests against cuts in 2012 (Sodtherich sticker photograph on Flickr). Google Cultural Institute invited me to participate in the Artist in Residency program to develop Tilt Brush virtual reality painting software. 2017 - Chutopia solo show, Margate. 2016 - Glastonbury Festival, UK. 2016 - ASK group show at Hang Fire, Bristol. 2015 - Glastonbury Festival, UK. 2015 - Danad Gallery, Hertford.
2014 - Moniker Art Fair, London. 2014 - Meeting of Styles, London.
2014 - No Thyself, Birmingham Music Event. 2014 - City of Colours, Birmingham. 2013 - Transformator, Zwevegem, Belgium. 2013 - Glastonbury Festival, UK. 2012 - Mostly Jazz, Funk & Soul Festival, Birmingham. 2012 - See No Evil - Bristol. 2012 - Standon Calling Festival, UK. 2011 - Pride in Bournemouth.
2010 - Ninja Tune XX birthday. 2010 - Monobrow - Corvoisier Futures Gallery, London.
2010 - Glastonbury Festival, UK. 2010 - Secret Wars Euroleague Finalists. 2010 - Tiger Lucky 8 - Birmingham. 2009 - Flying Eyeball - Mayfair London.
2009 - Pic n Mix - 55DSL Store, London. 2009 - Mutate Britain, London. 2009 - Urban Myths, Creasoli Gallery LA. 2009 - Urban in Ibiza.
2009 - Glastonbury Festival, UK. 2009 - Line Steppers, Jibbering Art, Birmingham. 2009 - 51 Degrees, Jibbering Art, Birmingham. 2008 - 12 Days, Bristol.
2007 - Alternativity, Truman Brewery, London. 2007 - Stella Dore opening night. 2004 - BBC White City art installation. 2004 - Santa's Ghetto, London. 2004 -'Born in Walsall', Walsall Town Hall.
2003 - Santa's Ghetto, London. 2003 - They made me do it 3, Kingsland Road, East London. 2003 - They made me do it 2, Brick Lane, East London. 2002 - They made me do it 1, Dream Bags Jaguar Shoes, East London (read review / see video on BBC Collective). 2002 - Unafied Family Exhibition, Birmingham. 2001 - Swiss Embassy, London.
2001 - Carhartt's Overboard Show, London. 2001 - Graffiti Bastards 3, Birmingham.
1999 - Graffiti Bastards 2, Birmingham. 1996 - Graffiti Bastards, Birmingham. 1992 - Carlisle City Festival.
1992 - ICONS - Fairfield Halls, Croydon. 1988 - Walsall Paddock sunken playground. 1988 - Crucial Creators, Walsall Art Gallery. Please look at my other items including rare modern and contemporary art and design pieces. This item is in the category "Art\Art Prints".
The seller is "ashbinx74" and is located in this country: GB. This item can be shipped worldwide.
Listed by Self-Representing Artist?: No
Artist: Chu
Colour: Multi-Colour
Style: Graffiti Art
Listed By: Dealer or Reseller
Features: Signed
Subject: Street Art
Originality: Limited Edition Print
Type: Print