Very Rare Jim Warren Signed and Numbered Ocean Life Limited Edition Watercolor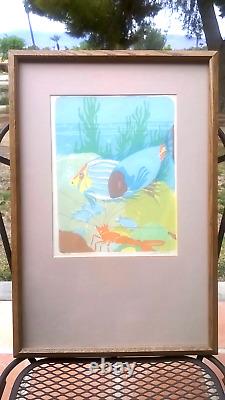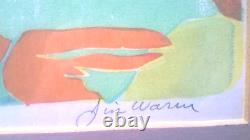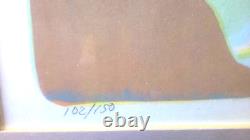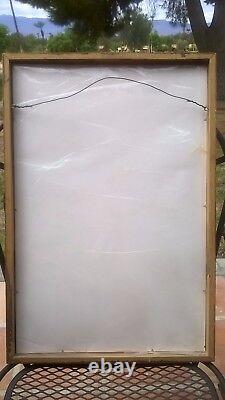 Warren that is not available anywhere, which was created early in the artist's career. It a stunning rendering which showcases Warren's genius talents of rendering marine life in motion.
The edition number is 102/150, and it is beautifully matted in beige, and framed behind glass. Jim Warren (1949 -), is an American-born artist. His highest acclaim came in 2011 when two of his nude paintings were recognized as the most famous nudes since the creations of Picasso, Dali and Modigliani.
Warren has also received fame after winning a Grammy award in 1981 for the cover art of Bob Seger's album "Against the Wind, " and his collaborative work with Disney. Today he is recognized by critics and collectors worldwide and is known as the most viewed artist on YouTube. This is HAND SIGNED artwork, limited to an edition of 150. The frame is vintage, and without any obvious flaws to report, and the back of the art (see pic), is protected by plastic. The artwork measures approximately 10.5" W x 13.5" L, with the framed dimensions approx.
17" W by 25" in length. Jim Warren's art is housed in many renowned public and private collections. Now you can add this authentic piece from his early years to YOUR private collection! These early works by Warren are not available anywhere. I personally find, and hand-select my items, from the finest estates throughout the desert.
Thank you for supporting my small business.